| | |
| --- | --- |
| Stereogram Lab Filter v1.0 | for Adobe Photoshop (Windows). FREE! |
Stereogram Lab Filter is a stereogram maker plug-in, which allows to generate Hidden Image Stereograms right in your Photoshop, which is quite convenient. This filter is free and you can use it both for commercial and non-commercial purposes, however, distributing the filter itself is not allowed.

Stereogram filter is developed in Filter Meister Plug-in creator.





Click here to download zip file - [DOWNLOAD]

Installation:
1. Download zip file (the link is above)
2. Unzip to Photoshop Plug-in folder, for example C:\Program Files\Adobe\Photoshop 6.0\Plug-Ins
3. Start Photoshop. You should see Stereogram Lab submenu in Photoshop`s Filter menu


Using Stereogram Lab Filter:


1. Open Texture map in Photoshop or select it if it's opened already.

2. Click Menu -> Filter -> Stereogram Lab -> Set Texture. Then Click [OK] button in the dialog window:


3. Open Depth map or select it if it's opened already.

4. Click Menu -> Filter -> Stereogram Lab -> Hidden Image Stereogram. A dialog window with stereogram settings and preview will open: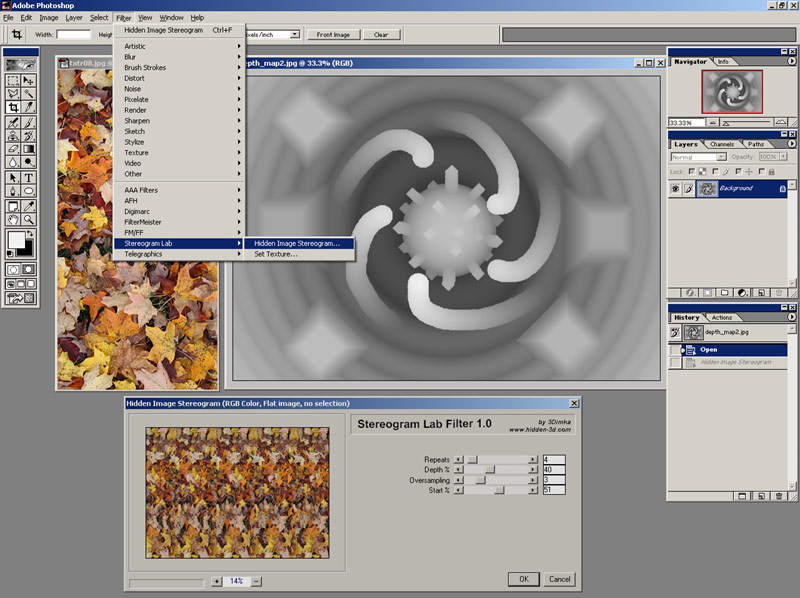 5. Adjust Rendering settings as desired, live preview will show how the stereogram will look.
Repeats - number of texture tiles for background (black color in depthmap)
Depth % - Level of third dimension in 1-100%
Oversampling - antialias/smoothing quality level.
Start % - Horizontal Position where rendering starts. 0-left side, 100%-right side, 50% - middle

6. Click [OK] button when preview looks good and Hidden Image Stereogram will be rendered over your Depthmap.

It appears that plug-in doesn't work in Windows 64. Also there are access issues when setting texture, so make sure the user logged in with has enough priviliges to write into Photoshop plug-in folder.

Recommended alternative software
Stereogram Lab Filter hasn't been updated for a long time and might not work with latest versions of Windows and PhotoShop.
There is alternative software available: Stereographic Suite which includes Stereogram Generator, Texture Maker and Modeler.


Support us
If you liked Stereogram Lab and willing to support us, please consider making a small donation which will help this site to survive.

Thank you!


---
Add or Read Comments (70)