| | |
| --- | --- |
| Stereogram Lab Filter v1.0 | for Adobe Photoshop (Windows). FREE! |
Stereogram Lab Filter is a stereogram maker plug-in, which allows to generate Hidden Image Stereograms right in your Photoshop, which is quite convenient. This filter is free and you can use it both for commercial and non-commercial purposes, however, distributing the filter itself is not allowed.

Stereogram filter is developed in Filter Meister Plug-in creator.





Click here to download zip file - [DOWNLOAD]

Installation:
1. Download zip file (the link is above)
2. Unzip to Photoshop Plug-in folder, for example C:\Program Files\Adobe\Photoshop 6.0\Plug-Ins
3. Start Photoshop. You should see Stereogram Lab submenu in Photoshop`s Filter menu


Using Stereogram Lab Filter:


1. Open Texture map in Photoshop or select it if it's opened already.

2. Click Menu -> Filter -> Stereogram Lab -> Set Texture. Then Click [OK] button in the dialog window:


3. Open Depth map or select it if it's opened already.

4. Click Menu -> Filter -> Stereogram Lab -> Hidden Image Stereogram. A dialog window with stereogram settings and preview will open: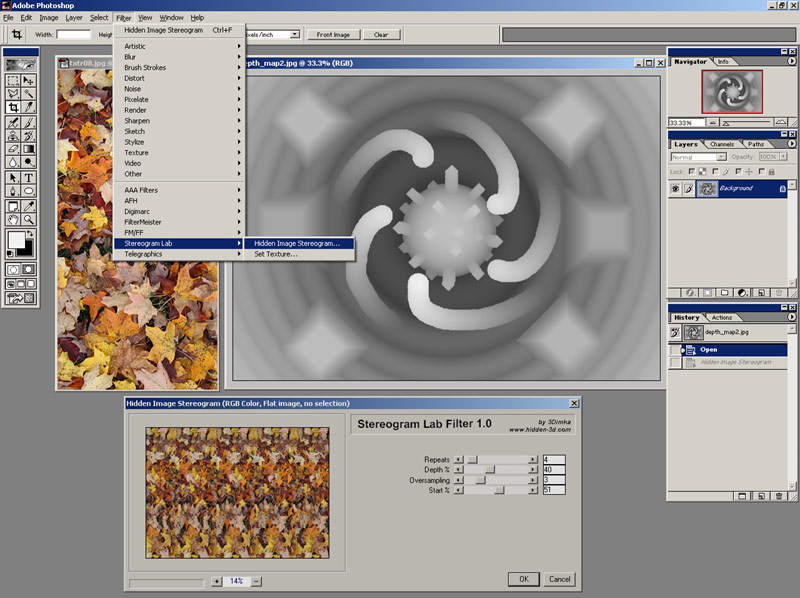 5. Adjust Rendering settings as desired, live preview will show how the stereogram will look.
Repeats - number of texture tiles for background (black color in depthmap)
Depth % - Level of third dimension in 1-100%
Oversampling - antialias/smoothing quality level.
Start % - Horizontal Position where rendering starts. 0-left side, 100%-right side, 50% - middle

6. Click [OK] button when preview looks good and Hidden Image Stereogram will be rendered over your Depthmap.

It appears that plug-in doesn't work in Windows 64. Also there are access issues when setting texture, so make sure the user logged in with has enough priviliges to write into Photoshop plug-in folder.

Recommended alternative software
Stereogram Lab Filter hasn't been updated for a long time and might not work with latest versions of Windows and PhotoShop.
There is alternative software available: Stereographic Suite which includes Stereogram Generator, Texture Maker and Modeler.


Support us
If you liked Stereogram Lab and willing to support us, please consider making a small donation which will help this site to survive.

Thank you!


Comments:

---
| | |
| --- | --- |
| 1. | Cool |
| | by Visiter on 2008-06-09 21:31:10 |
| 2. | ok |
| | by neung on 2008-07-31 23:54:08 |
| 3. | I m having trouble with the plug in - as soon as I click Set Texture I get an error message that my disk is full or write protected. |
| | by Tim on 2008-08-01 13:04:51 |
| 4. | Tim you need to allow writing into Photoshop s plugin directory for the current user |
| | by 3Dimka on 2008-08-03 11:16:44 |
| 5. | i love this... br this what i looking for... br great plug-in that also works on serif photoplus 6 |
| | by jefferson baloloy on 2008-09-02 07:50:51 |
| 6. | I am using photoshop cs3 and when I select a texture and then use my depth map it doesn\ t tile the texture it only repeats it across thetop. Is there something else I should be doing? |
| | by Jim Peterson on 2008-09-19 09:40:07 |
| 7. | I am using photoshop cs3 and when I select a texture and then use my depth map it doesn\ t tile the texture it only repeats it across thetop. Is there something else I should be doing? |
| | by Jim Peterson on 2008-09-19 17:27:15 |
| 8. | It is revy good. br Thank you. |
| | by Jame on 2008-09-20 10:23:59 |
| 9. | This program is terrible! Don t bother with it. |
| | by WasGonnaDonate on 2008-10-02 07:28:40 |
| 10. | Works great in GIMP too! Just need to have PSPI.exe installed which you can download here: http://www.gimp.org/~tml/gimp/win32/pspi.html br br Take care! br br Art |
| | by fencepost on 2008-10-10 12:16:47 |
| 11. | And for mac???? |
| | by pi on 2008-11-10 13:37:52 |
| 12. | how do you create the actual depth map? The image that is hidden within the pattern created by the filter? |
| | by Chris on 2008-11-21 09:59:09 |
| 13. | Chris I use 3D modeling tools to create a scene and then render depthmap using render settings. |
| | by 3Dimka ) on 2008-11-21 12:56:20 |
| 14. | nice baby |
| | by bedirhan on 2008-11-28 16:33:19 |
| 15. | Cool plugin :-) |
| | by Hi on 2009-01-22 07:28:02 |
| 16. | Im with pl on this one... br br What about the millions of Mac users?? |
| | by Sandra on 2009-02-04 21:13:10 |
| 17. | cool |
| | by me on 2009-02-14 14:45:16 |
| 18. | Amazing... br I used this techniques in my designes ... br br Cool |
| | by Abd Nakouzi on 2009-02-17 05:25:37 |
| 19. | In responce to 3Dimka how do you allow writing into Photoshop s plugin directory? |
| | by Henry on 2009-03-23 19:14:52 |
| 20. | Henry if windows doesn t allow you to write into photoshop s plugin directory try to do this under administrator user. |
| | by on 2009-03-24 08:55:19 |
| 21. | Don t work me nothing!! br I have installed them these plugins but I don t succeed in using them! The stereogramma is not created |
| | by Persona on 2009-04-26 13:23:45 |
| 22. | Works great in Corel Paint Shop Pro Photo X2 |
| | by Dad on 2009-05-14 20:09:28 |
| 23. | For the people who are using a Mac: Wake up and get a real computer. |
| | by Matt on 2009-06-23 19:40:04 |
| 24. | Cool! Been looking for this a long time! Only thing is I can t get it as clear as I want it. The final result is a bit messed up. I m running CS4. |
| | by Matt on 2009-07-12 04:54:09 |
| 25. | Cool! Been looking for this a long time! Only thing is I can t get it as clear as I want it. The final result is a bit messed up. I m running CS4. |
| | by Matt on 2009-07-12 04:55:36 |
| 26. | This filter works great TY. For those who want the result more clear: lower the depth and play with the other settings. Inversing the entire image helps sometimes too ( Ctrl+i ) in photoshop. |
| | by ken on 2009-08-10 10:23:25 |
| 27. | this is very good. ... |
| | by Tsogbadrakh on 2009-08-16 06:22:16 |
| 28. | Good |
| | by Amir on 2009-09-04 18:10:34 |
| 29. | Cool!! |
| | by StereoFanclub on 2009-09-04 23:15:13 |
| 30. | Hi I am trying to install this on CS4 but I only get Set texture option. I don t have any other option. Is there a trick to using it with CS4? br I also tried it on CS3 and I am getting the error can not write image file Drive is either full or write protected.. then it says it can t close the file. br Any help? I would love to be able to use this filter and will donate ) |
| | by A.walsh on 2009-09-07 22:10:13 |
| 31. | Really it s very usefull. br I can t belive that this excellent functionality is free of charge... br br Best of luck and thak you very much for post this plugin in free of cost. |
| | by sandip parasania on 2009-09-21 06:38:26 |
| 32. | i am on my computer administrator and i have the same problem as tim and henry |
| | by Greg on 2009-10-10 22:09:19 |
| 33. | i am on my computer administrator and i have the same problem as tim and henry |
| | by Greg on 2009-10-10 22:12:08 |
| 34. | Those who have the issue writing to Photoshop folder do you have Vista? What happens id the plugin needs to write a file (a set pattern) into Photoshop s folder but for some reason Windows denies access for this. |
| | by 3Dimka on 2009-10-12 19:47:11 |
| 35. | I think it doesn´ t work in CS4!! |
| | by LeJe on 2009-10-17 08:45:19 |
| 36. | This plugin works fine in CS4 within Vista but you have to use the 32-bit photoshop for it to work. 32 bit plugins DON T WORK in 64-bit photoshop! Also in Vista right click photoshop icon and select run as admin or turn off the UAC. |
| | by Badbullet on 2009-11-30 14:15:22 |
| 37. | I can see it without stereogram lab.. :P |
| | by hahahaha on 2009-12-10 09:39:47 |
| 38. | I can see it without stereogram lab.. :P |
| | by hahahaha on 2009-12-10 10:29:25 |
| 39. | Badbullet wrote:Also in Vista right click photoshop icon and select run as admin or turn off the UAC. br by Badbullet on 2009-11-30 14:15:22 br My question is what is UAC?? br |
| | by jd on 2009-12-16 11:25:38 |
| 40. | Badbullet wrote:Also in Vista right click photoshop icon and select run as admin or turn off the UAC. br by Badbullet on 2009-11-30 14:15:22 br My question is what is UAC?? br |
| | by jd on 2009-12-16 11:30:00 |
| 41. | I cant set the texture - I get an error message that says something like drive is full or write protected Can you help me?? |
| | by jd on 2009-12-16 11:32:42 |
| 42. | Nice stereogram maker easy to use! |
| | by Arthur on 2009-12-20 12:16:42 |
| 43. | cool |
| | by Raluca on 2009-12-30 07:38:23 |
| 44. | your collection and imagination is amazing. thanks for a great experience. |
| | by vonitya on 2010-01-22 10:05:31 |
| 45. | super |
| | by greg on 2010-02-01 15:25:42 |
| 46. | totally lost sorry |
| | by steve on 2010-03-06 16:46:13 |
| 47. | It did not work for me. maybe I need to play about with the size of the texture in the first place? Mind you I wonder what programme was used to creat the hidden code? |
| | by Rik on 2010-05-23 08:17:27 |
| 48. | Hi for those who have error with can t write or administrator issues in Vista or win 7 you can do the following: br go to program files then adobe then photoshop then right click on the photoshop.exe then click compatibility tab then check the RUN as an administrator br tha s it br sorry for my bad english |
| | by Cool on 2010-06-22 07:33:05 |
| 49. | thank u |
| | by j_karimi on 2010-06-26 10:08:28 |
| 50. | very nice |
| | by wanis on 2010-10-20 07:00:19 |
| 51. | Very Nice work |
| | by Rinku on 2010-11-10 06:07:26 |
| 52. | I just installed under Windows Vista and am playing around with this plugin with Jasc PaintShop Pro v.9 with no problem so far. Thatnx for a great plugin... Now if only I knew how to get my hands on a bunch of good depth maps. Still learning. LOL |
| | by Roy on 2010-12-02 22:23:15 |
| 53. | very very nice ! |
| | by alexis on 2010-12-07 13:56:35 |
| 54. | I really really want this to work but the plugin doesn t show in Photoshop... br Does it not work on mac?? Why not? Please help! |
| | by J on 2011-01-07 09:14:15 |
| 55. | I have moved the unziped folder in the plug-in folder but i can t get it to show up in photoshop. Any idea why this is? |
| | by Tifa on 2011-02-03 19:33:18 |
| 56. | I have installed it in Photoshop CS5 but it won t let me set a texture. It keeps saying Cannot write image File. Drive is either full or write protected. Than is say s Cannot Close Image File |
| | by Gr8Fzy1 on 2011-04-01 14:58:14 |
| 57. | ok |
| | by subhendu on 2011-04-26 03:36:24 |
| 58. | its really amazing....... |
| | by JIGS on 2011-05-08 07:23:54 |
| 59. | I want to knw hw to crate depth image.......plz any 1 sujest me |
| | by jolly on 2011-05-08 07:31:03 |
| 60. | 420 is my number |
| | by idiot of stereogram on 2011-06-21 02:40:39 |
| 61. | Will this work with Photo Shop Elements? |
| | by Rich on 2011-09-06 18:51:03 |
| 62. | What s the best way to create a depth image? Do you need 3d software to make it work? I m trying 2d images and not having much luck |
| | by A on 2011-10-13 15:53:26 |
| 63. | Open texture map. Nothing in Adobe help says how. br Open depth map. Nothing in Adobe help says how. br I do believe this works but the instructions are terrible. This seems to be a theme with S/W developers. It is as though they don t really want to share what they have got with idiots. |
| | by dre on 2011-12-20 03:43:42 |
| 64. | trouble setting the depth and all |
| | by rob s 1 and all on 2011-12-27 02:30:14 |
| 65. | trouble setting the depth and all |
| | by rob s 1 and all on 2011-12-27 02:30:16 |
| 66. | hahaha... GREAT!!! |
| | by Jexhua on 2012-03-08 09:17:52 |
| 67. | I m trying to figure out dimensions to make the texture repeat properly- I m planning to print fairly large 15x11- do you have any suggestions in terms of width for the texture map? I m having a hard time getting it to look right? br Any help is greatly appreciated! br email me at nomadicmint@gmail.com br thank you so much! br |
| | by ann on 2013-01-10 11:41:04 |
| 68. | 非 常 棒 。 |
| | by xtjatq on 2013-04-06 23:00:36 |
| 69. | Sir Sorry Properly not correct Please help me. br e-mail : ajantatrophy@yahoo.co.in |
| | by Balkrishna on 2013-08-18 06:29:01 |
| 70. | Beatiful !! Thanks for such a great plugin. br Works perfectly under CS3 (Photoshop 10.0) br |
| | by Yorch on 2017-01-16 21:00:26 |